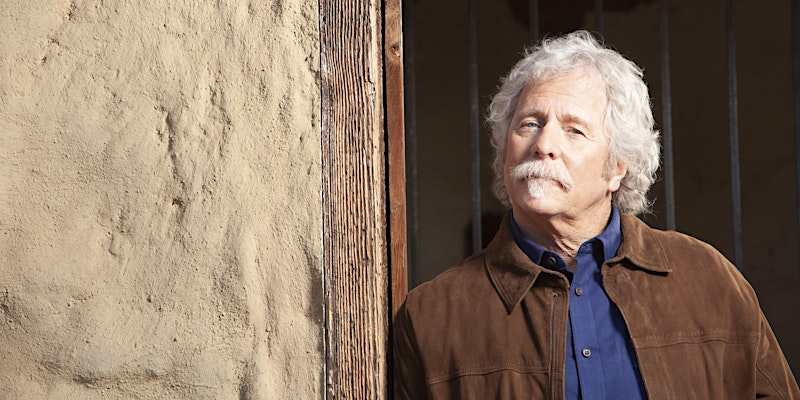 Date & Time
4pm, Dec 9, 2020
Doors Open
2020-12-09T23:50:00Z
To celebrate the release of his new memoir Time Between: My Life as a Byrd, Burrito Brother and Beyond, the GRAMMY Museum will host a live online conversation with Chris Hillman. The discussion will be moderated by Scott Goldman and will take place via digital conferencing for fans to tune in and watch live!
Tickets are free for GRAMMY Museum Members and $10 for non-Members. All proceeds from this program will help support the GRAMMY Museum's mission to continue its music education initiatives virtually while our doors are closed due to COVID-19.
ABOUT CHRIS HILLMAN:
Chris Hillman is arguably the primary architect of what's come to be known as country rock. After playing the Southern California folk and bluegrass circuit, he joined Roger McGuinn, David Crosby, Gene Clark and Michael Clarke as an original member of The Byrds. He went on to partner with Gram Parsons to launch The Flying Burrito Brothers, recording a handful of albums that have become touchstones of the Americana genre.
Hillman then embarked on a prolific recording career as a member of Stephen Stills' Manassas, as a solo artist, and as a member of several groups: Souther-Hillman-Furay with acclaimed songwriter J.D. Souther and former Buffalo Springfield and Poco member Richie Furay; McGuinn, Clark & Hillman with two of his fellow former Byrds; and Rice, Rice, Hillman & Pedersen with Tony Rice, Larry Rice, and longtime collaborator and duo partner Herb Pedersen. As a songwriter, he appeared on the Billboard singles charts in four consecutive decades, and his songs have been recorded by a diverse range of artists, from Steve Earle to Patti Smith to Roy Rogers.
In the 1980s, Hillman launched a successful mainstream country group when he formed The Desert Rose Band with Pedersen and John Jorgenson, scoring eight Billboard Top 10 country hits. In the midst of his country success he was inducted into the Rock & Roll Hall of Fame along with the other original members of the Byrds. He has since released a number of solo efforts, including 2017's highly-acclaimed Bidin' My Time, which was the final album produced by Tom Petty with executive producer Pedersen.
In Time Between: My Life as a Byrd, Burrito Brother and Beyond, due out November 17, 2020 via BMG Books, Hillman takes readers behind the curtain. Featuring a foreword by Dwight Yoakam and dozens of photos from Chris's personal collection, Time Between is filled with Hillman's encounters with characters such as Lenny Bruce, Jimi Hendrix, Bob Dylan, The Beatles, The Rolling Stones, Bo Diddley, Otis Redding, Chuck Berry, and Buck Owens, as well as his musical collaborations with Clarence White, Bernie Leadon, Stephen Stills, Dan Fogelberg, Herb Pedersen, John Jorgenson, Al Perkins, Jay Dee Maness, Tom Brumley, and more. From tales of hanging out at the famed Ash Grove club in Los Angeles as a teenager to Hillman's 2018 Sweetheart of the Rodeo anniversary tour with Roger McGuinn and Marty Stuart, this engaging memoir always comes back around to Hillman's first love. "I never thought about the money, the future, or chasing down stardom," he writes. "It was always all about the music."