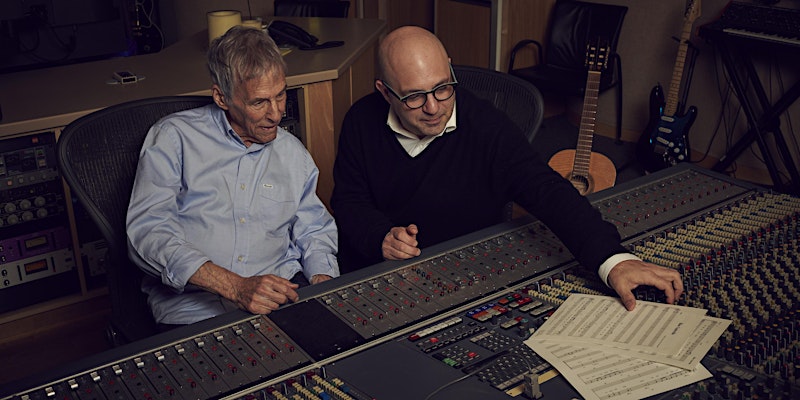 Date & Time
4pm, Jul 30, 2020
Doors Open
2020-07-30T22:45:00Z
The day before the release of their new collaborative EP of original songs, Blue Umbrella, the GRAMMY Museum is thrilled to host a live online conversation with Burt Bacharach and Daniel Tashian. The discussion will be moderated by Scott Goldman and will take place on July 30th at 4 p.m. PT for fans to tune in and watch live from home via Zoom. The program will be held in association with ASCAP, of which Burt is a longtime member, and BMI, of which Daniel is a longtime member. Advanced registration is required for this online event and will be available on a first-come-first-serve basis.
All proceeds from this program will help support the GRAMMY Museum's mission to continue its music education initiatives virtually while our doors are closed due to COVID-19.
ABOUT BURT BACHARACH AND DANIEL TASHIAN:
Burt Bacharach and Daniel Tashian have announced their Blue Umbrella EP (July 31 / Big Yellow Dog Music), a set of fresh original songs co-written by the three-time Academy Award-winning music legend and the writer/producer behind modern classics like Kacey Musgraves' Golden Hour (which earned Tashian an Album of The Year GRAMMY in 2019). Centered around five new originals by this cross-generational songwriting duo, Blue Umbrella is Bachrach's first album in 15 years and Tashian's dream collaboration with his childhood hero.
Recorded in Nashville, Blue Umbrella features Daniel on vocals and Burt on piano backed by some of the city's finest musicians (Dennis Crouch, Fred Eltringham, Tom Bukovac, Jim Hoke). Filled with rich, jazzy chords that underpin restless, dynamic melodies and graceful, understated lyrics, the EP is a true blend of the songwriters' personalities, sensibilities and spirits. While refusing to settle for nostalgia, Blue Umbrella cements Bacharach & Tashian as a 21st-century ampersand worthy of the Brill Building.
Burt Bacharach is one of songwriting's most honored and successful composers. A recipient of three Academy Awards, two Golden Globe Awards, The Library of Congress Gershwin Prize for Popular Song and eight GRAMMY Awards (including the 2008 Lifetime Achievement Award and 1997 Trustees Award), he revolutionized the music of the 1950s and 60s. Daniel Tashian joins an esteemed list of lyricists to partner with Bachrach, including Hal David and Elvis Costello.
Daniel Tashian has written songs for Kacey Musgraves, Little Big Town, Lady Antebellum, Lee Ann Womack, Josh Turner, Maisie Peters, NeedtoBreathe and Brett Eldredge. As a producer, he's recently made albums with Eldredge, Lily & Madeleine, Jessie James Decker and A Girl Called Eddy. His songs have appeared in such TV shows as Breaking Bad, Pretty Little Liars and Nashville. Aside from his two Grammy Awards for Kacey Musgraves' Golden Hour, he has been nominated for another for his children's music album I Love Rainy Daysand just released his second children's music album Mr. Moonlight (Big Yellow Dog Music).
*Please note that this is a live event via Zoom and technical issues may occur.
TICKET POLICY
The holder of this ticket is granted admission to the indicated facility for the purpose of viewing the specified event. This ticket is for use by the holder only and the holder is bound by this policy. This ticket is not transferable and may not be sold, otherwise conveyed or used for any other purpose, including promotion or commercial, without the prior written consent of The Recording Academy. If this ticket is sold, otherwise conveyed or used in violation of this policy, it will be deemed revoked and void, and its holder deemed a trespasser at all Recording Academy events. This ticket is a revocable license and admission may be refused by refunding the face amount of the ticket or ejection may occur for failure to comply with any facility rule. The holder agrees not to transmit or aid in transmitting any description, picture, recording or reproduction of the event. The holder acknowledges that the event may be captured and recorded by audio, audiovisual, and/or photographic means, and hereby grants permission to utilize the holder's image and/or voice in any and all media now known or hereafter devised to further the interests and mission of the Recording Academy. It is unlawful to reproduce this ticket in any form. The Holder assumes all risks incidental to the event, whether occurring prior to, during or after the event, and releases the facility, management, all participants and each of their affiliates, employees, officers, directors, members, partners, owners, managers, sponsors, contractors and agents from any loss, damage or expense resulting from any such risk. The Recording Academy reserves all legal rights and remedies. Save money on ticketing fees next time by becoming a GRAMMY Museum member! More info at grammymuseum.org.